Honeymoon Wooden Cottage @ Rainforest Munnar Complementary Cake, Karaoke Music & Freshly cut Flower arrangement. We will also arrange on request ,Barbecue & Camp Fire, Candle light dinner, Spices garden tour, Mountain trekking & Sight-seeing trips,Complementing the romance of the location, enhancing the senses, the Honeymoon Wooden cottage is a special and intimate space.Complementing with a romantic location, enhancing the spirits and senses, Honeymoon cottage is a special and intimate space to be in for the newly wedded.
Wood house in Rainforest, is built the Canadian way, where honeymooning couples can enjoy their stay, in a house, built completely of natural wood from pine trees, elevated 10 feet above ground, facing a mesmerizing natural forest from all sides.

Canadian believes about Wood house.

Wooden homes are very healthy for its inhabitants, as wood does not emit electrostatic charge, and the pine tree log walls, regulate humidity and temperature inside. The "breathing" property of wood provides healthy living. It is established that warm and natural wood color positively inuences state of mind, soothes nervous system and creates friendly conditions for recreation
The wood house is an exceptional example of the fusion of nature with modern architecture. Rest assured the picture speaks it all.
What you get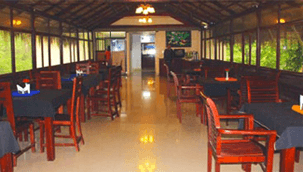 Our prime objectives were to provide an isolated feel to the occupants, in the midst of a forest respecting the fawn, flora and all living creatures around. Built on an expensive area of 500 square feet, with complete natural pine wood, placed 10 feet above ground, is the first of its kind in south India, built using Canadian technology and imported materials. The wood house is exclusively designed, voluntarily by a Swedish architect, during his stay in Rainforest Munnar.
What you get
A luxurious living spaceCampfire, Barbeque, Karoake music on request
Complimentary Breakfast
Unlimited Instant Coffee and Tea Sachets
Attached bath room
Balcony facing the forest.All the comforts and facilities provided in a regular resort room are available - showers, toilets, fresh linens, comfortable beds, and chairs are standard. The views are spectacular